Dental Diagnostics – Why see a Specialist Dentist?
Real Smile Design
I stress that aesthetic analysis should be considered in 4 dimensions when carrying out aesthetic analysis on my patients. This is more or less divided into 3D + time the fourth dimension that is aging. To help you in the best possible outcome for your dentofacial aesthetics, I look at the face first, followed by the position of the dental arches in relation to face in 3D, followed by the shape and colour of rows of teeth and finally the single tooth.
Dental Diagnostics – Why see a Specialist Dentist?
Real Smile Design
I stress that aesthetic analysis should be considered in 4 dimensions when carrying out aesthetic analysis on my patients. This is more or less divided into 3D + time the fourth dimension that is aging. To help you in the best possible outcome for your dentofacial aesthetics, I look at the face first, followed by the position of the dental arches in relation to face in 3D, followed by the shape and colour of rows of teeth and finally the single tooth.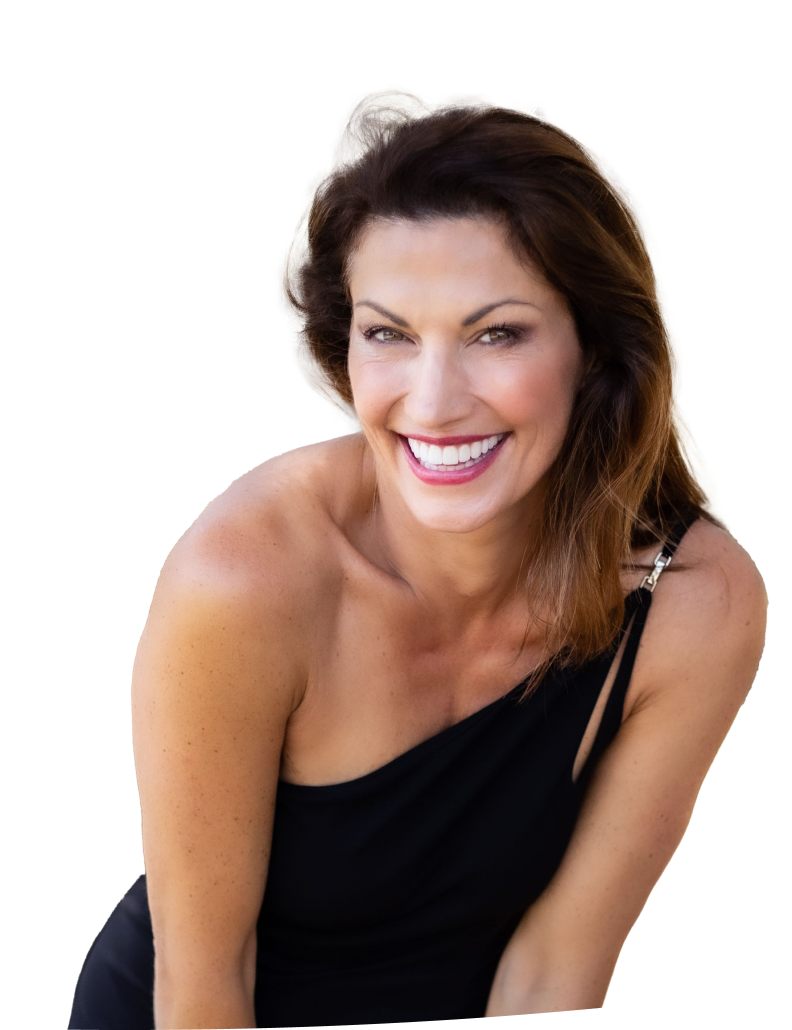 Treatment directed to facial balance
Positioning and creating the correct arch form in 3D, is the scaffolding for the facial frame. This helps to reduce premature aging, since the lower facial volume is restored and maintained.
This concept looks at harmonising the dental and facial relationships together. Having straight teeth does not make a beautiful smiles and faces. The proposed smile makeover must complement you, your unique racial characteristics and beauty.
I have researched all different ethnicities of facial forms to help to design the smile to complement the racial beauty and dentofacial aesthetics. This is crucial in our multicultural society.
In summary, I do the following:
Identify the positive elements of your smile that should be maintained
Visualise treatment strategy to address your chief concerns.
Harmony in relation to facial proportions are difficult to quantify, there is a range of acceptability. You are presenting at our surgery for an opinion and treatment. I always start by thinking; What is right about this smile and not what is wrong with this smile. Treatment should be directed to facial balance and smile aesthetics as well as providing comfort and function.
During our first consultation, I discuss all the options available to you, including the consequences of proceeding with no treatment. This is a critical decision making process. This is about you and you face the world. It is about the confidence and realities of life. Beautiful smiles help to make beautiful people.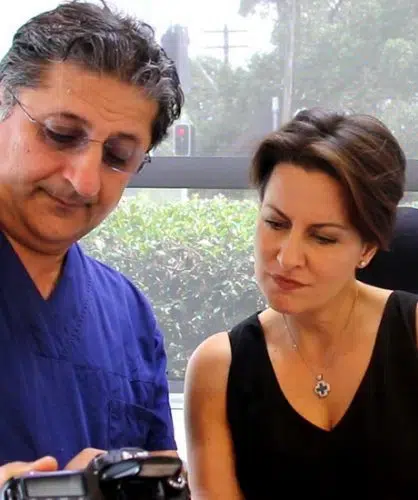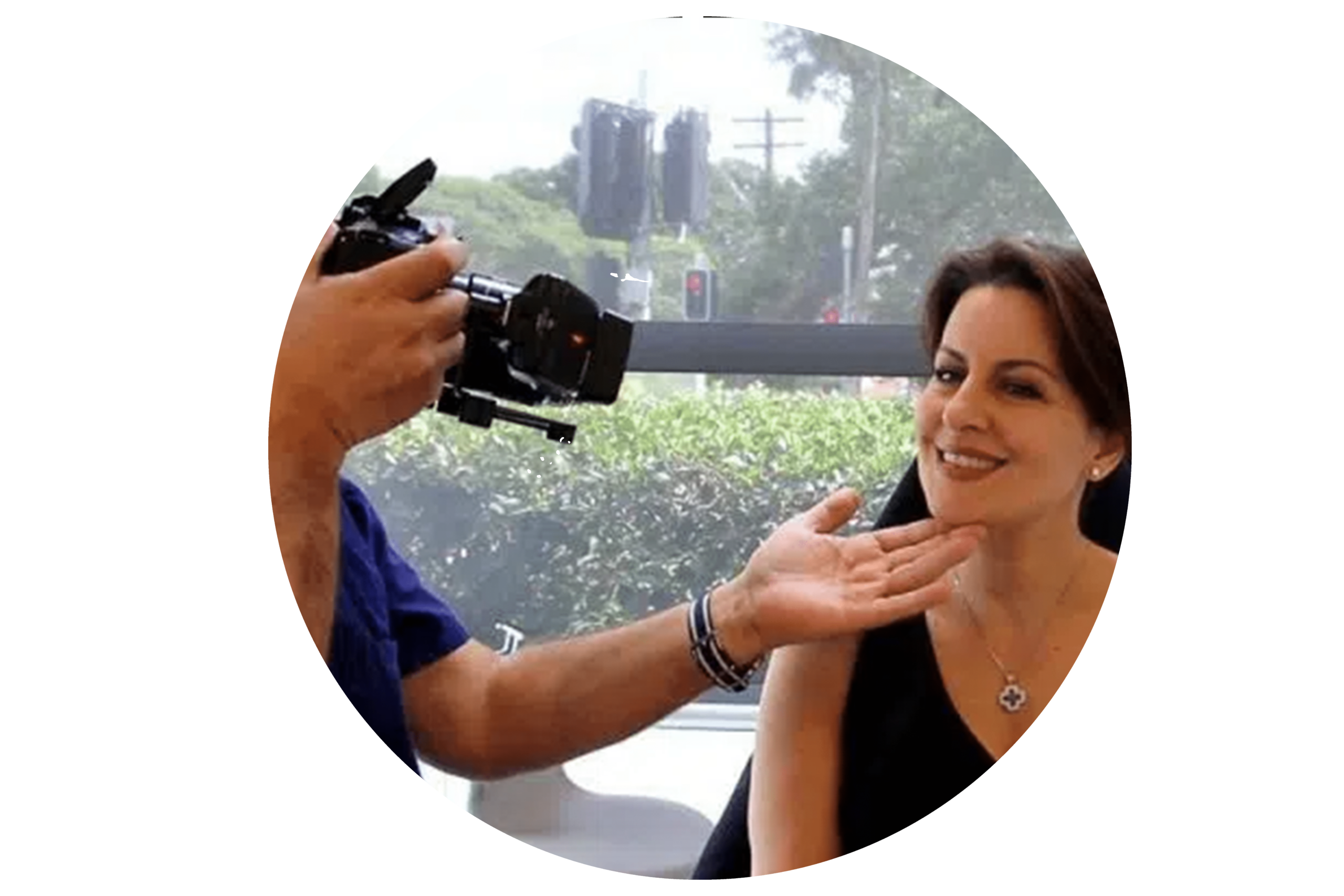 Let's get to know each other - Diagnosis & Patient centred treatment planning
Once we have determined your needs and expectations and when you are ready, I begin to restore your teeth to optimal function and aesthetics. This can be done all at once or over a period of time, whichever is suitable to you. Due to the multi-disciplinary nature of many treatments, every aspect is coordinated with the referring dentist and other dental specialists. The prosthodontic reconstruction involves fillings, veneers, crowns, bridgework, dentures and dental implants, to ensure optimal aesthetics and function. I consider the use of magnification reconstructive dentistry and implant surgery as leading-edge technology, essential to the delivery of high-quality service.
"One of the most dangerous diseases is diagnosis" George Bernard Shaw.
The question is "Can we deliver?". And this is why we need a diagnosis. Diagnosis involves:
Consultation and examination
Special tests: x-rays, CBCT, study models, Intraoral scanning, images, direct composite or diagnostic wax up, provisional restorations
Referral to other specialist colleagues
Which Cosmetic Dental Procedure Is for You?
There is only one diagnosis and many forms of treatment. Incorrect diagnosis will lead to incorrect treatment. Let me help you achieve your desired dentofacial aesthetics, tooth replacement even a simple dental filling! Diagnosis takes time, expertise and patient involvement for that special gift: your oral health and your smile!
When it comes to aesthetics or complex oral rehabilitation, we need to visualise the treatment outcome. The consenting process is not signing on a piece of paper or digital manipulation. It takes time. Therefore we want you to understand the following:
The need/rational for treatment
The nature of treatment
The effects, risks & benefits
The likelihood of success
Length of treatment
Any alternative treatment
Cost of the treatment
The consequence of no treatment
Specifically tailored for you the patient
This is to help you to understand the limitations, risks and modalities of treatments. The level of tooth display, arch form, gum line, lip line, hickness and outline, dynamics of smile and speech and level of tooth exposure on both arches.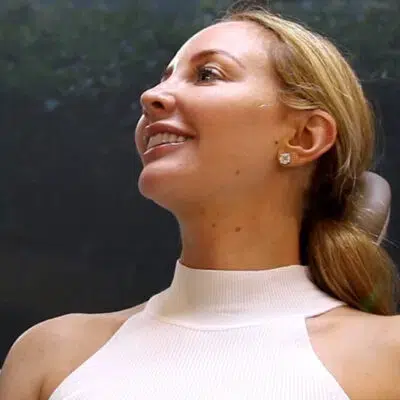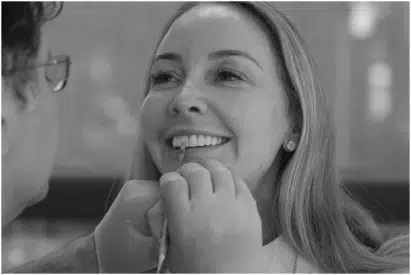 There is a difference between locking and seeing, one must visualise. What am I looking here? What am I thinking? What the eye cannot see the mind cannot recognise.
I ask for your help for that important decision-making process during diagnostics
Understanding form, function and aesthetics and sharing clinical findings with you. Building rapport with you is an integral part of my practice.
Diagnostics: Do you see what I see?
In poetry, which I enjoy, one paints a picture in the mind. However, aesthetic dentistry is poetry in motion. The dynamics of a smile, facial expression, teeth display, lip frame, the eyes, the cheekbone. All these features combine to form aconcerto and this is music to the eyes! As a specialist, I see the whole picture and this is where science merges with art.
I see beauty and elegance, don't you?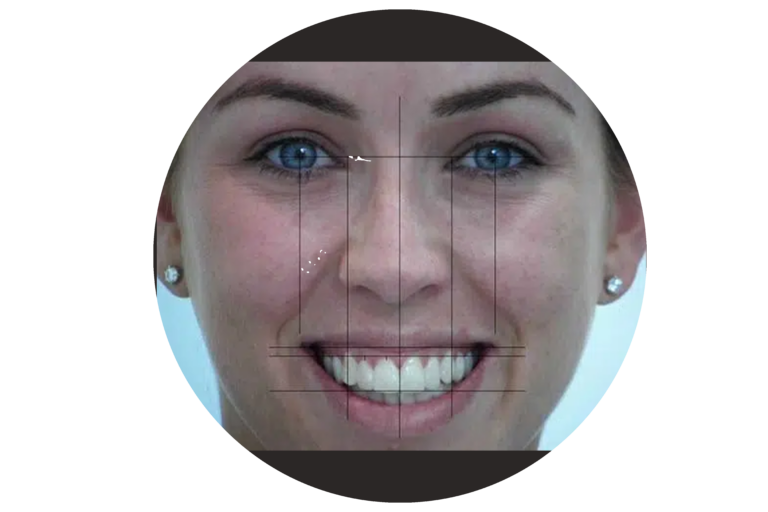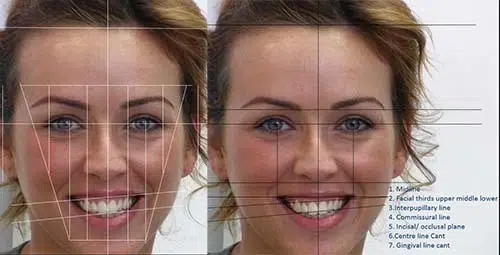 Facial Proportions & Symmetry
This patient with ideal facial proportions presents with dental asymmetry that was corrected initially using composite mock up to visualise the treatment possibilities. The lower arch crowding was not a concern.
In an ideal world we would consider orthodontics and surgical correction on both jaws to:
Reposition maxilla (upper jaw) and mandible (lower jaw) followed by restorative correction.
However surgical correction and orthodontics in this case would have affected the" cuteness "of the lip thickness, outline, symmetry & support that is an integral part of facial aesthetics.
Patient had consulted numerous surgeons who also confirmed my clinical findings.
Note the canted maxilla, that also creates a canted gummy smile. An excessive gummy smile is possibly due to delayed passive eruption or vertical maxillary excess.
The case is easily solved with small gum lift on teeth 12, 11 (marked in black) and composite veneers. In the future porcelain veneers can be considered.
10 years post op note how elegant the lips are formed. The fullness of lower face & pleasant aesthetics. Orthodontic and surgical intervention would have destroyed that delicate balance that existed for an optimal facial aesthetics in this case.
In this case the composite veneers after few years appear slightly discoloured, however it can be replaced with another composite and porcelain veneers, since the lip support and that "cuteness" of the lips are maintained over 13 years and more with minimal intervention aesthetic dentistry.
When patients ask me why do we have to pay for diagnostics?
Some things to think about:
Art & Speed Do Not Mix
You Must Think in 3D and Visualise
4th Dimension – TIME: affects people with all ages. All we want is a youthful and fresher look
In summary, prosthodontics requires training and qualification to deal with complex dental health problems. I have attended an internationally recognised and formally structured university program to give me the extra skill and knowledge required to plan and manage complex dental problems. The qualification takes several years of training and practice. This has been over 7 years of post-graduate University training, multiple examinations etc.
Correct diagnostics is more important than treatment. That's why you are seeing a specialist. As a specialist prosthodontist, I also coordinate complex multidisciplinary treatments involving an orthodontist, periodontist, paediatric dentist and oral-Maxillofacial surgeons. Diagnostics are vital to coordinating treatments and to providing you with the treatment that is best suited to your desired outcome, maintaining the biology of your existing tooth structure and ensuring the correct function when you eat and speak. You don't want to find any problems with your new teeth after the treatment.
On this page are some examples from hundreds of patients that have been treated. You will find more detailed case studies under the "Real Patient Stories" in the menu above. I sincerely believe that we have achieved the desired functional and aesthetic reconstructions to complement our beautiful patients. All the procedures were performed by myself, Dr Sarkis Nalbandian, a specialist in Reconstructive Aesthetic and Implant Dentistry. Education and Experience are everything.
For instance, rather than simply providing cosmetic solutions, which after all, only focus on "how things look", I am trained to correctly diagnose and treat any underlying problems beforehand.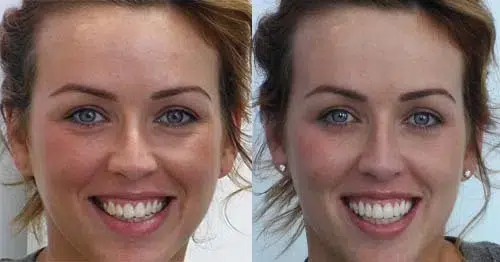 This concept is carried over into all aspects of reconstructing or improving smiles and appearances, including fixed or removable teeth, giving you a long-term result rather than a "quick fix" which might break down early or even damage your teeth.
Implant surgery involves additional skills obtained for surgical planning and placement of dental implants as an overall diagnosis and treatment for our patients. To gain any formal postgraduate qualification, one must have their relevant knowledge tested in any examination or pass any professional critical review process at world-class universities. In other words, doing 2-day course does not make a dentist an implantologist or an expert in reconstructive dentistry.
I am a Specialist Prosthodontist and an Implant Surgeon. This dual qualification helps you have both implant placement and reconstructions completed in one venue, reducing overall cost.
Our diagnostic centre is unique and you can have all the relevant diagnostic information in one centre at Cremorne. Our referring dental colleagues like this because their patients, like you, are looked after in one centre and by a specialist who cares about his patients just like his own family.
The uses of operating microscopes for prevention and maintenance in reconstructive dentistry are:
Following insertion of restorations, there is the advantage of being able to track any problems by periodic video examinations utilizing the intraoral camera. Visible and sometimes invisible potential marginal problems can be greatly enlarged. Certainly, the ability to diagnose and treat a defective margin as early as possible can prolong both the aesthetic and functional life of restorations.
Patients cannot see for themselves what we can see; thus, highly enlarged views made available by operating microscopes enhance patient compliance in home care. Typically, patients wait until something is sensitive before seeking treatment. Periodic examinations utilizing the intraoral camera can play a significant role in prevention of inevitable aesthetic failure due to marginal pathology.
Operating microscopes can and should also be used to show patients areas of their mouths that lack proper hygiene maintenance. For example, enlarged lingual views give patients the opportunity to see the inside of their mouths like never before.
One of the most frequent causes of restoration failure is lack of gingival hygiene, with both flossing and brushing. When images of the mouth are magnified while the explorer is used to remove plaque from the sulcus, patients become visually aware of the importance of ongoing maintenance. Restoration longevity is normally expressed in averages. For instance, full crowns is 5 to 15 years. However, a patient should be aware that not even the normal range of life expectancy will be achieved unless these gingival areas are maintained on a daily basis.
Operating microscopes are also highly useful in showing patients existing micro cracks. These micro cracks (in teeth and restorations or crowns with less than ideal marginal integrity) can stain and cause other aesthetic problems for patients. Photographs and permanent records of these micro cracks can be of tremendous benefit to the patient in accident cases. Documentation of micro cracks also provides a baseline for assessing subsequent staining or changes. Link to cracked teeth
The intraoral camera can be used to magnify and photograph areas of obvious bruxism. Identify problems at subclinical stages before it is recognised clinically by the patient who has persistent discomfort.
I use special Leica® operating microscopes due to the delicate nature of my work. Magnifications at 10 times and more improve accuracy and comfort to you saving a multitude of problems later on.
Children also visit our practice as we also cater for the whole family. Dental visits are fun and educational and children's curiosity is amazing. Our staff are highly trained in today's multifaceted and sophisticated dental care.
Experience and post graduate training is mandatory for thorough diagnosis and treatment planning to deliver high quality care to our patients.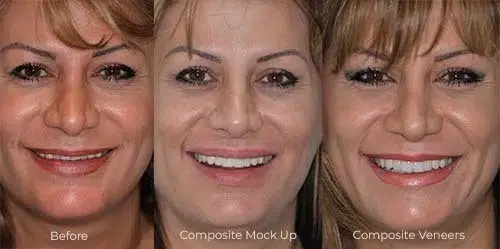 Integrating Cone Beam CT in my practice over 10 years
Cone Beam CT has provided my practice with the convenience of having diagnostic information at my fingertips and I have been very happy with this system. Patients are happy to not be referred elsewhere for radiography.
Today time is an issue, not only for the patient but also for the dentist. The CBCT available today has a much reduced radiation level and produces images which are clear and software friendly to use. Patients appreciate seeing their CT images on the screen immediately and are thrilled to be involved in their diagnosis and treatment planning. This has become a standard of care in the diagnosis and consenting process today.
Our diagnostic information not only requires simple assessment in 2D, especially in my practice of Implant Surgery and Prosthodontics, but in 3D where immediate diagnosis is required. This information is crucial to patient treatment especially those travelling long distances, and even internationally, to come to our practice.
Having 3D images and the ability to reformat in different sections is immensely valuable to diagnosis and aids in all disciplines of dentistry. In my practice I need information NOW! And can get this NOW!
The new Scanora 3D helps me taking CBCT (cone beam CT) and sending the copies of the CD to my referring dentists for continual care of their patients. It is also very valuable when referring to colleagues such as ENT surgeons, OMF surgeons and orthodontics.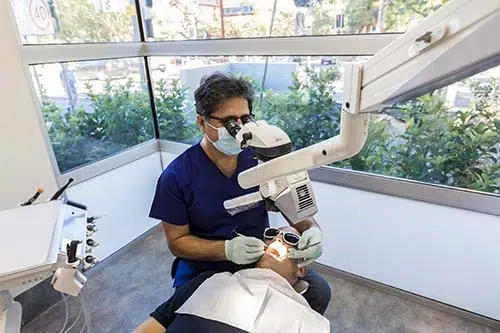 Diagnostic Information
The diagnostic information obtained from CBCT in many ways depends on your treatment requirements and diagnostic assessment.
Here are some of the points worth mentioning:
• Prosthodontic and Implant Surgery. SD, reslicing at any angles, nerve tracking, and 3D guided surgery applications, panoramic images thatare second to none. T MJ provides the anterior and laboured views.
• Periodontics: assessing amount of bone support in 3D-this visual process is the best diagnostic and essential for patient education. Patients do not understand periodontal charting and plaque scores,
but can see the bone loss, tooth migration and over eruption in the 3D image.
• Orthodontics: orthodontic diagnosis in 3D,Cephalometric in with 3D analysis, superimposition: measuring/comparing tooth movement, pre/post orthodontic measurement, volumetric space change etc. This combined with 3D imaging will change the face of orthodontics.
Assessment during orthodontic treatment for implant surgery andgrafting. Small tooth movements in simple tooth movements using TAD(temporary device anchorage). The Scanora 3D is two systems in one, with true digital panoramic and low dose CBCT with four different fields of view. Having this information at your fingertips is Cold! A new era has begun. This is the "Cold Standard" in diagnostics. This means our patients do not have to wait weeks for correct diagnosis and treatment planning, when most of the time this is done immediately, since the information is on the screen. Special diagnostic measures such as composite mock-ups (trial restorations) help you to visualise your results from simple aesthetic to complex reconstructive procedures. It is all about helping you in communicating all steps of the required procedures.
Health Fund Rebates Available
Get in Touch with Us for More Details
Thank you for taking the time to understand my diagnostic process and the technologies and techniques i use. I hope this gives you an idea of what I can do for you if you are having difficulty and need help, because there is always hope.
Dr. Sarkis Nalbandian
Visiting Professor YSMU
Specialist Prosthodontist & Implant Surgeon
B.D.S.(Hons), Dip. Clin. Dent. (Oral Implants), Uni. Syd.,
M. Clin. Dent. (Prosth) King's College, Uni.London.,
D. Clin. Dent. (Prosth), Uni. Syd.,
FIADFE, FPFA, FRACDS, MRACDS(Prosth)